Deep Cleaning
Deep Cleaning Water Based Pitches
Deep cleaning of a water-based hockey pitch needs to be undertaken at regular intervals during the life of the surface to prevent build up of contamination, which if left untreated will manifest itself as dirty tide marks left behind on the surface after flooding with the rain guns, or after heavy rain. Deep cleaning, using the technique developed over the past four years by Sweepfast, will also break up algae growth deep down in the carpet and remove it from the surface.
Images below taken with a 200x magnification microscope of typical algae growth in a water based surface showing stages of treatment.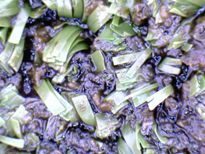 Algae Growth Before Chemical Treatment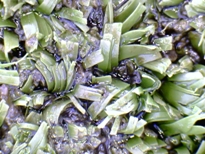 Algae Growth 14 Days Post Chemical Treatment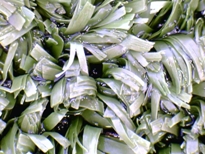 Algae Growth Post Deep Cleaning With The SKR Machine
As can be seen from the above photographs the reduction of algae growth in a water based synthetic grass surface is imressive. Sweepfast achieve this by the delivery of water under high pressure at a controlled height into the surface breaking up the algae and debris and flushing it to the surface, where it is lifted into an on board tank by vacuum, by the use of a Horger SKR ( see below). We always recommend where necessary the surface is treated with a suitable chemical before deep cleaning commences, where infestation is not excessive the deciscion may be taken to chemically treat post deep cleaning. Sweepfast will advise on the recommended course of action at the first free consultation.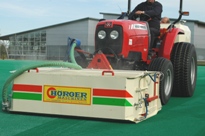 Horger SKR front mounted head and rear mounted tank / pump unit. The head encapsulates a full width set of high pressure water nozzles and a variable depth rotary brush, the combination of which lifts the contamination from within the carpet and deposits it into the front receptor from where it is pumped into the rear holding tank.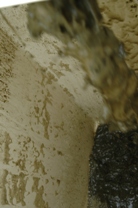 Sludge removed from within the surface by the head unit is pumped into the rear mounted tank / pump unit, where it is held until disposal.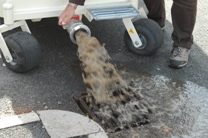 Disposal is carried out into a suitable drainage area and the clean water tank replenished ready for the next pass.