Power Brushes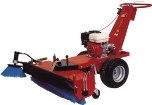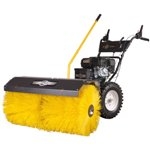 In our industry a walk behind power brush is a petrol engine sweeping machine used for removing debris from Artificial grass surfaces, Hard tennis courts, driveways and paths.
They can pretty much be used on any type of outdoor surface to remove dirt, leaf litter, general debris and are very useful for snow removal.
Our range of Texas power brushes start with the Handysweep range, these are ideal for looking after smaller areas and yet are powerful to tackle most tasks.
The newly introduced Texas Smartsweep machines are next up in the range, these provide multiple brush as well as traction speeds and are available to order with onboard electric start.
If you would like any advice or information regarding the use of any of these machines please contact us.